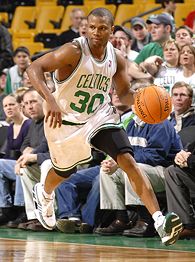 (Photo courtesy of ESPN.com. Taken in October, at a pre-season game. In the background right of Bassy's head head are two co-workers and myself. The photo ran on the frontpage in an article related to his question by NYC police in the Fabolous shooting. Whatever happened with that?)
A promotion had viewers (should that be plural) of the Celts –Sixers game in the fourth quarter text vote, on whether if Celtics get either Oden or Durant that they will win A) 30-40 B) 40 -50 C)50+ games text season.
They've won 23 this year! Why isn't that one of the text options. Doc will still be the coach. Ainge will still be the GM. Who knows that they wont trade Green and Jefferson for upcoming free agent Grant Hill and one of Scallabrine's cousins. There's no one over 24 on the (by the way the Celts look like they have a rotation because they only have 8 players available) rotation of Jefferson, Gomes, Green, Rondo, Telfair, Powe, Perkins, and Pinkney.
So what does it matter if they get Durant or Oden, or Jo Noah…or worse in May. The way I see it is that like a lot of things, it could go either, a long way either way. But there is reason to be hopeful. This past year they were a Mike Dunleavy and decent coach from contending in the East. So who wouldn't be optomistic with Ratliff's expiring deal and Rondo a year older.
By the way, Doc didn't rule out signing another guy off the street to play Friday! I can't wait to go.
Oh and Dice-K pitched decently at his Fenway opener as King Felix (along with Johan Santana the Petronas Towers of my fantasy team) threw a complete game shut out (1 hit, 2 walks, 6 Ks) by killing the Sox dreadful bottom half. I'm looking at you Tek, Crisp (.143) and Pedroia (but I'll give you a little more slack).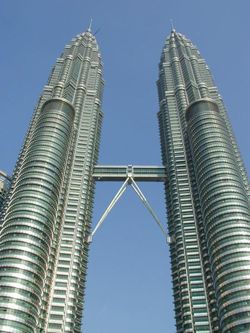 (Phot
o: Google Images. Petronas Towers in Kuala Lumpur, Malaysia, 
were featured prominently in the sexy Catherine Zeta-Jones, Sean Connery
 flick, Entrapment. You know the one that used Y2K as a plot device.)